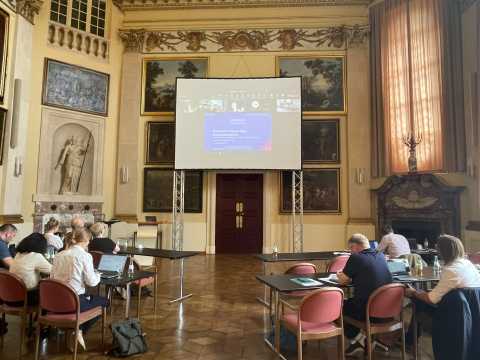 The STARLIGHT consortium attended the 5th public workshop of the EU-funded ALIGNER project on June 21st and 22nd, 2023, in Sankt Augustin, Germany. As a key participant, STARLIGHT representatives contributed to the workshop's discussions and shared its policy recommendations. ALIGNER's advisory boards, other research projects, and individual experts from academia, policy, industry, and civil society also attended.
The centrepiece of the 5th ALIGNER workshop was the presentation of two scenario narratives for the second year of the project and their associated AI technologies. These narratives will serve as catalysts for discussions on vital topics such as cyber security requirements, potential unintended consequences of AI adoption by Law Enforcement Agencies, the development of an initial taxonomy of AI-supported crime, and the identification of further policy recommendations and research gaps.

To ensure active participation and an exchange of diverse perspectives, the workshop fostered interactive discussions between ALIGNER partners and Advisory Board members. One highlight of the workshop was the policy recommendations panel, where STARLIGHT, alongside popAI and ALIGNER colleagues, presented the policy recommendations, highlighting the latest updates on the AI Act. 

Considering the ongoing legislative process, STARLIGHT is aware of the importance of staying updated on the AI Act's developments and the consortium is committed to being at the forefront of AI policy discussions and contributing to the shaping of future regulations.

The ALIGNER 5th workshop marks an important milestone in the development and integration of AI technologies in law enforcement and promises to foster insightful discussions and shape the future of AI adoption in the field. By actively engaging with the AI Act negotiations and emphasising the importance of ongoing legislative developments, STARLIGHT is making significant strides towards creating a safer and more effective AI-powered law enforcement landscape.