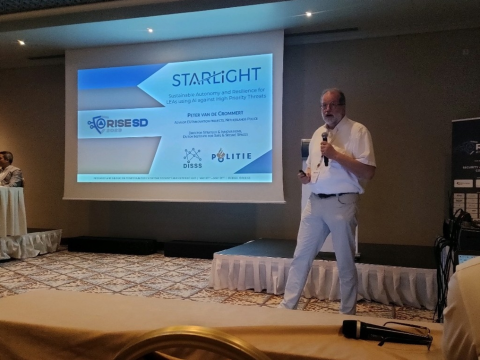 STARLIGHT was presented at the Research and Innovation Symposium for European SECURITY and Defense (RISE-SD) in Rhodes, Greece, from May 29–31, 2023. A three-day EU research and innovation event in the fields of disaster and crisis management, critical infrastructure protection, border security, and defence research, with an audience including high-level EU representatives, governmental representatives, researchers, industry, practitioners, and European security and defence stakeholders.
More than 200 participants from around the EU joined the event to exchange ideas, present results, and participate in live demos of technological solutions. The event also provided an opportunity for networking and collaboration among attendees, fostering the development of new partnerships and initiatives in the fields of security and defence.
The agenda for the event included presentations and demonstrations of EU-funded security projects, as well as panel discussions on topics such as 'Fighting crime and terrorism: current and emerging landscape, solutions, and opportunities' and 'ΑΙ for Civil Security: research directions, operational aspects, uptake, and barriers.'
STARLIGHT was among the EU-funded security projects presented at the event, and visitors to the STARLIGHT booth were able to learn about the project's development, including details about the technologies, functionalities, and tools partner Vicomtech developed for the STARLIGHT project in relation to intelligent video analytics for security.
On the first day of the event, during the FCT session, two STARLIGHT partners, the LINKS Foundation and the Institute of Communication and Computer Systems, presented their current research on 'Geo-spatial crime prediction using a Deep Learning attention-based model' and 'Leveraging Continuous Learning for Fighting Misinformation'.
In the morning session of day three, our partners, Jorge García Castaño, Vicomtech, and Philip Engström, Swedish National Forensic Centre, participated in the AI discussion panel on 'ΑΙ for Civil Security: research directions, operational aspects, uptake, and barriers'.
In the afternoon of the third day of the event, Peter van de Crommert from partner National Police of the Netherlands, gave an overview presentation of STARLIGHT, highlighting the goals and aims of the STARLIGHT project as well as the co-development methodology, which involves collaboration between our end-user and technical partners.
STARLIGHT aims to provide a comprehensive approach to the development and deployment of AI solutions in law enforcement, with a focus on ensuring transparency, accountability, and responsible use of these technologies. Additionally, the STARLIGHT addresses cybersecurity concerns and provides measures for protecting LEA AI solutions from potential attacks or breaches.