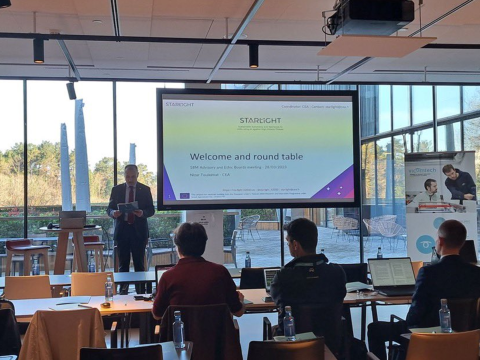 The event was held from March 28th to March 30th in San Sebastian, Spain, and was organised by partner VICOMTECH, an applied research centre specialising in digital technologies connected to Artificial Intelligence and Visual Computing.
We were honoured to have Aitor Lete, Security Coordinator of the Basque Autonomous Government, start the STARLIGHT General Assembly session with the Advisory Board in the morning and Nada Milisavljevic from the European Commission open the whole consortium conference in the afternoon. Both emphasised the significance of artificial intelligence in security research and innovation.
Participants got the chance to discuss project advancements and delve further into the STARLIGHT solutions and impact on the security community.
The meeting's purpose was to bring together the whole STARLIGHT consortium to discuss the project's progress and activities, including its primary goals, what it has done so far, obstacles, plans, risks, and how to make the many tools and technologies utilised in the STARLIGHT programme function together.
This gathering also provided an opportunity for individuals to meet one another and make plans for the future. All participants had the option to attend the Tool Fest event, where STARLIGHT's technology providers demoed more than 30 tools to the stakeholders present.