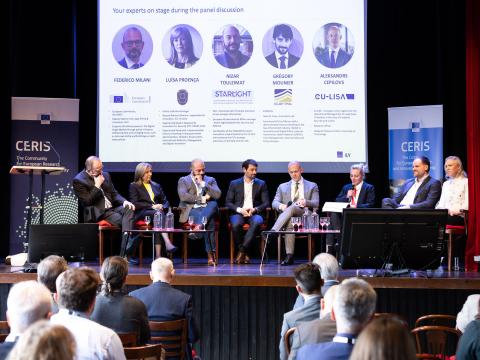 STARLIGHT and sister project AP4AI, took part in the CERIS seminar on Artificial Intelligence for Security Purposes. The event, hosted by DG HOME on 23 March 2023 in Brussels, brought together a wide range of stakeholders, including security practitioners and policymakers as well as researchers and academics, who shared their opinions and experiences on this subject.
More than 90 members of the EU Security Community came together to discuss how EU security research supports the development and use of artificial intelligence (AI) tools by law enforcement while respecting societal and ethical concerns, as only when the use of AI is trustworthy can it enhance our security.
STARLIGHT coordinator, Nizar Touleimat, participated in the panel on European Security Data Space for Innovation. Access to data is essential for researchers and practitioners to develop accurate and robust AI models.
Other panels discussed how to consider the needs of law enforcement in daily practice as well as in the proposed AI Act. In this panel it was also possible for the EU Innovation Hub represented through Europol's Innovation Lab and CENTRIC to announce the first version of the AP4AI self-assessment tool for accountability.
Further panels looked at successful examples of how AI can support civil security and the future hopes for AI in this space.
The European Commission started the Community of Users for Safe, Secure, and Resilient Societies (CoU) in 2014. Its goal was to make it easier for people in the security research community to interact with people who use research results. It gathered approximately 1,500 registered stakeholders (policymakers, end-users, academia, industry, and civil society) and held thematic events with the security research community on a regular basis. This platform, which is now called the Community for European Research and Innovation for Security (CERIS), continues and grows the work of the CoU in light of what will happen with Horizon Europe from 2021 to 2027.