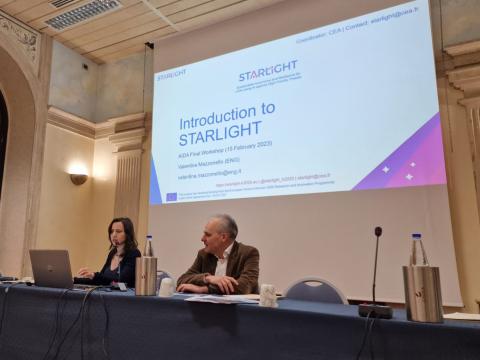 STARLIGHT has strengthened its relationship with AIDA and other EU-funded security projects and continues to work towards increasing the awareness, ability, adoption, and long-term results of AI applications in European LEAs.
STARLIGHT participated in the final AIDA workshop on the use of artificial intelligence and advanced data analytics by law enforcement and EU security services on February 15. Our partner, ENG, offered a summary of the STARLIGHT project, highlighting the implemented techniques, positive aspects, and close collaborations from the perspective of LEAs.
The one-day event was held in Rome and provided a chance to examine the AIDA solutions developed in partnership with EUROPOL and LEAs. It was also an opportunity to discuss the solutions and how they could be utilised to investigate cybercrime and terrorism while safeguarding privacy and data.
After 30 months of hard work, around fifty tools have been completed and given to security experts from EUROPOL and the seven LEA partners in the project so they can be evaluated.
We would like to congratulate the AIDA consortium for their excellent coordination and efficacy in working to improve the operational activities of security practitioners, as well as their contribution to the research community.