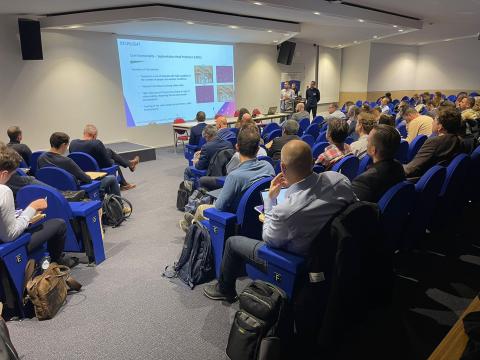 On October 26, 2023, the STARLIGHT project hit an important milestone with its 1st Physical Pilot. The aim was to showcase the STARLIGHT tools to Law Enforcement Agencies (LEAs) and gather their feedback for refinement.
Before the pilot, technical partners conducted a training session for LEA representatives, ensuring they were well-equipped to test the tools effectively in practical scenarios. 
Post-training, the LEAs dived in, using the tools in real-world situations and providing valuable feedback on functionality, user-friendliness, and how well the tools met their needs. They also offered suggestions for future enhancements.
The pilot took place at the 'Brice De Ruyver' auditorium within the premises of the Belgian Federal Police in Brussels.
The agenda was packed with presentations and demos of various tools, including HTTP Traffic Analysis, Logo Generation and Detection, Disinformation Analysis, Crowd Monitoring, STRACT (Location Data Analysis), Geotemporal Crime Prediction, and Speaker and Spoken Language Identification.
This event was a pivotal moment in the STARLIGHT project, solidifying the collaboration between technical partners and LEAs. It has paved the way for further improvements and innovations in our fight against crime and security challenges.
In summary, the first physical pilot was a successful step forward, providing us with invaluable insights that will guide the project's future direction.