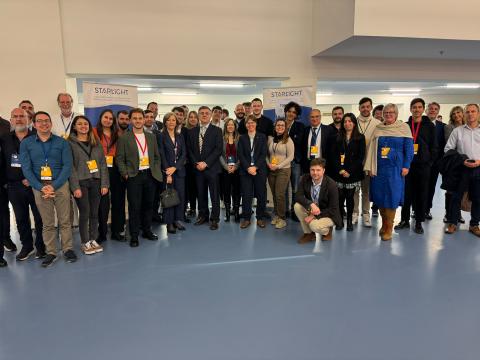 The Security Research Event (SRE) is an annual gathering that unites industry leaders, policymakers, and knowledge institutions to address the ever-evolving landscape of security research in Europe. Held in Brussels from October 24-25, the 2023 edition of SRE delved into the substantial challenges brought about by global megatrends, fundamentally reshaping security in the European Union.
The themes of "Social transformation, digitalization, and climate change: a new paradigm for security research" were central to this year's SRE, which the European Commission organized with the assistance of significant European organisations, including the Swedish and Spanish EU Council Presidency. 
STARLIGHT's Involvement 
In this context, our project played a significant role as a participant, contributing to the event's discussions and insights. STARLIGHT is dedicated to revolutionising data discovery and understanding through AI and the SRE 2023 event hosted our ToolFest followed closely by the 1st Physical Pilot, where we had the opportunity to showcase how innovative AI tools, developed in collaboration with various industry and research partners, can reshape security research across various domains. 
Interactive Booth and Demonstrations 
Our partners demonstrated how AI tools can address pressing security challenges across various domains. Visitors to STARLIGHT's booth had the opportunity to engage in discussions and when attending the ToolFest they explored the innovative AI tools developed within the project. Live demonstrations provided vivid insights into the exceptional capabilities of these tools. 
By harnessing the power of artificial intelligence, we aim to predict, prevent, detect, and investigate crimes while safeguarding digital infrastructure. The core mission is to expand the use of AI for law enforcement agencies (LEAs), contributing to their long-term sustainability. 
The Future of Security Research with AI 
STARLIGHT's AI toolkit encompasses various tools designed to redefine how we approach security challenges. These tools exemplify AI's potential to tackle complex security issues and include visual and audio/text processing analytics designed to empower law enforcement agencies with advanced capabilities for enhanced security and investigation.  
Our project remains steadfast in its mission to expand the horizons of security research and foster collaborations and innovations for safer and more secure communities and our journey is made possible with the support of our partners, participants, and supporters.